The Ohio Association of Ambulatory Surgery Centers...
supporting the provision of high quality care and professional standards in ambulatory surgical care organizations.
Welcome
Find an ASC
---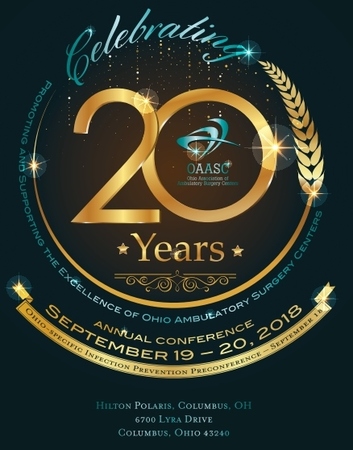 Welcome and thank you for your interest in Ohio's ambulatory surgery centers (ASC). This site is designed to assist the members of the Ohio Association of Ambulatory Surgery Centers (OAASC) and to promote public awareness of ASCs and their services.
Our association is committed to enhancing the quality of care provided by ambulatory surgery centers in Ohio and to promoting high standards of professional conduct among all organizations providing ambulatory surgical care.
The OAASC is focused on the advancement of the ambulatory surgical center industry through legislative and regulatory advocacy, education, and good information. On a national level, the OAASC works cooperatively with the Ambulatory Surgery Center Association. This cooperation allows OAASC members to add their voices to the efforts directed toward Congress, the administration, and appropriate agencies.


I
n Ohio, the OAASC is the only organization exclusively representing the needs of the state's ASC community. We maintain close contact with state agencies and legislators to monitor and impact regulations and legislation that govern ASCs and improve patient safety.

Additionally, we provide members with information to enable their centers to operate using state-of-the-art surgical, technical and administrative procedures. OAASC offers an annual multi-day conference, timely educational offerings including in-person and web seminars and regular e-newsletters on reimbursement, regulatory compliance, quality standards and other industry-specific issues. Additionally, the OAASC has developed a state of the art benchmarking system so that Ohio ASCs measure their quality processes against their peers in the state.

Should you have any questions about information on this site or wish to receive information concerning Ohio's ASCs or the OAASC membership, please feel free to contact OAASC Executive Director, Randy Leffler (info@oaasc.net).
What's New
Registration Available NOW
Join your ASC Colleagues from around Ohio for the OAASC annual educational conference - the only one exclusively for ASC professionals in Ohio.
Complete Article >
Complete Article >
September 19-20, 2018
ASC Partners can now sign-up for exhibit opportunities for the OAASC's 2018 Annual Conference. This year's conference will be held at the Hilton Polaris in north Columbus, Oh and there will be several opportunities for exposure during OAASC's 15th Annual Conference.
Complete Article >
Positive Corrections Possibly on the Horizon
Yesterday, CMS released the 2019 proposed payment rule for ASCs and HOPDs. Of note, they have addressed a number of long-requested priorities for the ASC community, including proposing to align payment update factors, moving ASCs to the same factor used to update HOPD payments.
Complete Article >